You find yourself short on paying your bills this month, and your next paycheck is still some time away. This puts you in danger of incurring late fees, which can add up to a hefty sum. In times like this, getting a payday loan in Singapore can help. What is a payday loan?
A payday loan is a short-term unsecured loan offered by licensed moneylenders that may be used to meet urgent financial obligations. This is a useful option for those who cannot wait for their next paycheck.
The two main characteristics of payday loans are their low loan quantum not exceeding one month of your salary, and the short repayment period – the loan is due on the same day your next salary is paid.
Payday loans in Singapore may also be known as "cash advance loans". This is not to be confused with a credit card cash advance facility, which involves withdrawing a credit card's remaining credit limit as cash.
Pros and cons of payday loans in Singapore
| | |
| --- | --- |
| Pros | Cons |
| No collateral required | High interest rates |
| Lenient eligibility criteria, quick approval | Short repayment period, have to be repaid by next paycheck |
| Suitable for urgent, short-term financial needs | Loan quantum capped at one month's salary |
Understanding payday loans
As with all other financial tools, it is important to understand how to properly use one.
Payday loans in Singapore are designed to bridge temporary shortfalls in funds that can happen due to unexpected emergencies or a sudden interruption in income.
While they are helpful for immediate needs, their short loan tenure and low cap, these types of loans are not the best fit for longer-term financial needs.
Also, note that any payday loan you take counts towards your maximum loan limit across all moneylender loans. They will also be reflected in your Loan Information Report maintained by the Moneylenders Credit Bureau.
Some borrowers in Singapore may find payday loans easier to qualify for than other types of loans, due to the lenient eligibility criteria and quick approval process.
However, care should be taken not to rely too frequently on payday loans, due to the high interest charges involved.
In addition, you should be careful to repay any outstanding payday loans before applying for a new one. Having an outstanding payday loan will likely increase the interest on your loan, or even disqualify your application entirely.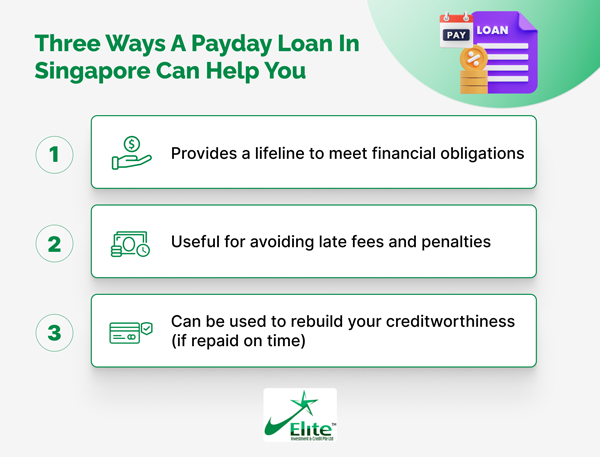 Reasons to consider a payday loan in Singapore
Payday loans are readily available
Many licensed moneylenders in Singapore offer payday loans, making it easy for borrowers to find one. You can search online for a payday loan provider to find a moneylender near you.
Payday loans have lenient requirements
Compared to other types of loans, payday loans have more lenient requirements. Often, you only need to offer proof of employment, identity documents, and proof of residential status to be granted a loan. See the Payday Loan Eligibility section for more details.
Payday loans are approved quickly
Singapore's licensed moneylenders are usually able to approve your payday loan application quickly, sometimes even within an hour. Once approved, you will receive the funds in your bank account in short order.
Eligibility guidelines for payday loans in Singapore
The following are commonly required when applying for a payday loan.
Singapore Citizen or Permanent Resident

Currently employed
Latest three months' payslips or CPF contribution statements
Proof of identity and residential address

Foreigner residing in Singapore

Currently employed
Proof of employment, such as work pass
Latest three months' payslips or bank statements showing salary being credited
Proof of identity and residential address

Other things to note

Maximum loan subject to overall limit across all moneylender loans
Consider borrowing only what you need
Check carefully the terms and conditions of the payday loan before borrowing, especially repayment terms, interest rate, fees and charges, etc.
Elite Investment and Credit is a leading provider of payday loans and other short-term unsecured loans to meet your urgent financial needs. Talk to us today about a low-interest rate payday loan in Singapore.