Borrowing from blacklisted money lenders in Singapore is never a good idea, no matter how urgent your financial needs are. Such moneylenders have either lost their licence for failing to adhere to the rules and regulations laid down by the law.
This article takes a look at the differences between a licensed moneylender and one that is blacklisted, the dangers of borrowing from a blacklisted money lender, and how you can spot and avoid them.
Who are blacklisted money lenders in Singapore?
Blacklisted moneylenders in Singapore are licensed money lenders who have flouted the rules set out under the Moneylenders Act. Due to the serious nature of their offences, these moneylenders had their licence suspended or revoked.
Suspended or blacklisted moneylenders will be named in the Registry of Moneylender's official list of licensed moneylenders in Singapore, clearly marked as such at the bottom of the list.
Additionally, a licensed moneylender that consistently engages in unfair or unscrupulous practices against borrowers may also earn a bad reputation, causing them to be blacklisted by the community.
Note that although such money lenders may still have their licence (perhaps because they are still under investigation) they nevertheless should be avoided to save yourself from an unpleasant encounter.
Licensed moneylenders vs blacklisted money lenders in Singapore
| | |
| --- | --- |
| Licensed moneylenders | Blacklisted moneylenders |
| Behaves professionally and courteously at all times | Rude and unprofessional behaviour towards customers (including not answering calls, not replying to text messages, etc) |
| Explains clearly loan terms, fees and conditions, and is open to negotiation when borrowers genuinely need help | Doesn't explain loan terms clearly to borrowers, and doesn't allow negotiation on late payment, even under difficult circumstances |
| Adheres to the Ministry of Law's rules and regulations, and also guidelines and practices in the Professional Service Handbook for Moneylenders | Doesn't follow the Ministry of Law's rules and regulations, and ignores guidelines and practices in the Professional Service Handbook for Moneylenders |
| Does not discriminate against any borrowers | Practices discrimination against certain borrowers |
In understanding the differences between licensed moneylenders and blacklisted or illegal ones, there are four areas to pay attention to:
Advertisement channel
Loan amount, contract, and receipts
Terms and conditions of the loan
Behaviour, practices, and feedback from the public
Advertisement channels
One telltale sign you may be dealing with a blacklisted money lender in Singapore is the channel through which they advertise.
Under the law, licensed moneylenders are only allowed to advertise through specific channels. These are business or consumer directories (print or online), websites belonging to the moneylenders, and advertisements at the moneylenders' premises. All other forms of advertisement are not allowed.
As such, if you receive a loan offer through flyers, emails, SMS, and phone calls, or see moneylender advertisements on Facebook, Instagram, TikTok, WhatsApp, Telegram, etc, it is highly likely that it is a blacklisted or unlicensed moneylender.
One exception is a third-party loan comparison service, which assists you in getting quotes from different moneylenders to find the one with the best terms. Note that these services are not moneylenders and thus you may encounter their advertisements on social media and other channels.
Limits to the loan amount
The Singapore government has set debt limits in place to help borrowers avoid taking on too much debt. How much you can borrow from a licensed moneylender depends on your annual income, as follows:
Annual income S$20,000 and above: Borrow up to 6x monthly income
Annual income between S$10,000 and S$20,000: Borrow up to S$3,000
Annual income less than S$10,000: Borrow up to S$3,000 (Citizen or PR) or S$500 (Foreigner)
Blacklisted money lenders in Singapore are likely to ignore these loan limits and let you borrow as much as you want. On the surface, this may appear to be a good thing, but their intention isn't to help you. Rather, the more you borrow, the more money they can make off you.
Hence, if you come across a loan offer that is higher than the legal limits, be wary of accepting the offer. You are most likely dealing with an illegal moneylender, exposing yourself to harassment and danger.
Clear and transparent terms and charges
Besides borrowing limits, licensed moneylenders also have to adhere to limits on fees and charges, and communicate them transparently and clearly to borrowers. Specifically, moneylenders in Singapore may only charge:
Up to 4% per month interest
Up to 10% admin fee
Up to S$60 late fee
Up to 4% per month late interest on the overdue amount
Legal fees ordered by the court for successful recovery of the loan
Note that in total, interest, late interest, admin fee, and late fee cannot exceed an amount equal to the loan's principal sum.
For the protection of borrowers, these fees, along with all other terms and conditions on the loan, should be clearly stated in an official loan contract. Monthly repayments made should also be duly recorded and a receipt should be produced for each repayment.
Blacklisted moneylenders in Singapore are unlikely to adhere to these terms. They may charge interest higher than 4% per month or impose hefty admin charges and late fees. Some blacklisted moneylenders may even hide these fees from you, making you pay much more than you initially thought.
Another warning sign is the absence of a clear and detailed loan contract or not receiving receipts for your repayments. The aim of withholding these documents from you is to discourage you from seeking help from the authorities, making you feel you have no evidence against them.
Behaviour, practices, and feedback from the public
Another area to pay attention to is the behaviour and practices of the moneylender. From deliberately ignoring your phone calls or messages, to rude, bullying, abusive language or actions, tactics that make you feel intimidated or unsafe could indicate you could be dealing with a blacklisted moneylender.
Also, beware of unlawful practices such as withholding your identity card and personal documents, asking you to sign a blank contract, not explaining the loan terms and conditions clearly, or asking for your Singpass and other sensitive information.
And while this may be somewhat subjective, if a moneylender consistently refuses to renegotiate on late payments for borrower genuinely facing difficult circumstances, it could be a warning sign.
One useful way to screen out potentially blacklisted moneylenders is by checking public feedback, such as Google reviews, or comments left on social media pages. If you see a consistent pattern of problematic behaviour or complaints, it may be best to avoid the moneylender altogether.
It may also be useful to familiarise yourself with the Ministry of Law's licensed moneylender rules and regulations, and the guidelines and standards in the Professional Service Handbook so you know what to expect.
How to identify blacklisted money lenders in Singapore
Now that we understand the differences between licensed moneylenders and blacklisted moneylenders, we can see that there are six signs we can use to help spot and avoid the latter.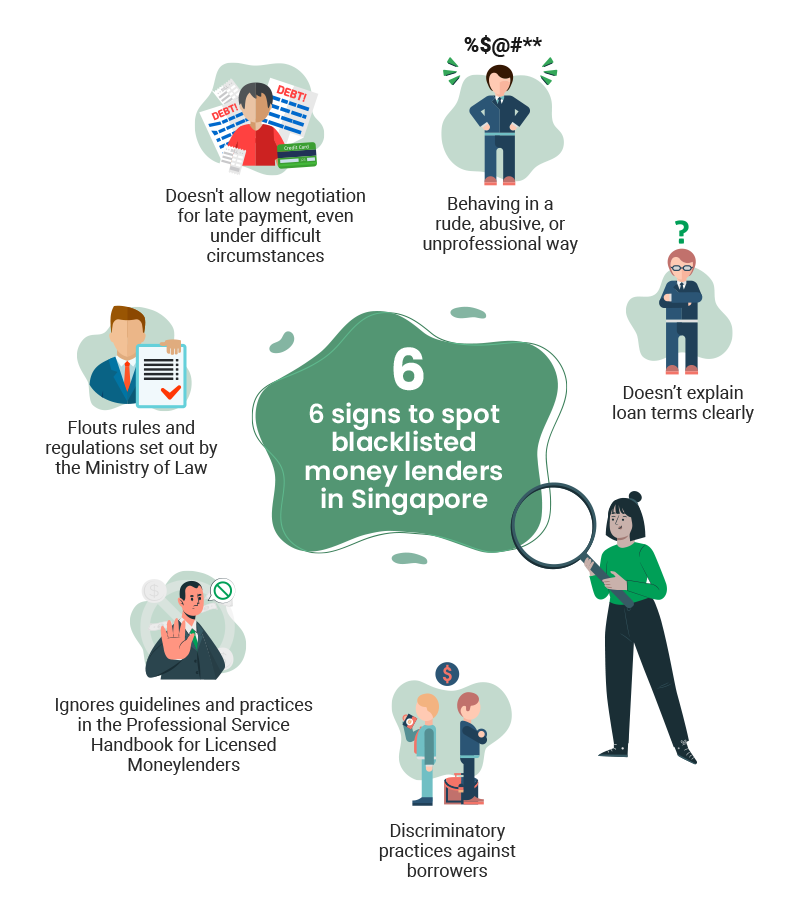 How to check if you're dealing with a licensed moneylender
The moneylending sector is closely monitored by the authorities and the Ministry of Law maintains a record of licensed moneylenders in Singapore that are in good standing. Any moneylenders that run afoul of the law will have their licence suspended or even revoked, and be blacklisted.
Thus, you should check if the moneylender you are dealing with remains in good standing, using this list of licensed moneylenders in Singapore.
At the time of writing, no licensed moneylender has been suspended. Any suspended moneylenders will be indicated as such on the last page of the list.
If the moneylender you are borrowing from cannot be found on the list, do not proceed.
Lastly, if you suspect you are dealing with a blacklisted money lender in Singapore, contact the Ministry of Law at telephone number: 1800-2255-529.
You may also call this number to report any unauthorised advertisements such as flyers, SMS, or phone calls from moneylenders.
Elite Investment & Credit is a fully licensed moneylender in good standing and is committed to serving our customers professionally and lawfully. Contact us today to find out about our low-interest loan packages.