Licensed moneylenders may offer quick and convenient loans, but just because they are easily available doesn't mean you can be careless with them. Borrowing requires discipline and good budgeting habits, and you should ensure you repay your debt on time. If you find that you are unable to pay moneylenders in Singapore, here's what might happen, and what you can do.
What might happen if you can't repay your loans?
Future loans might not be approved
Even though licensed moneylenders do not consider your credit score (unlike bank loans), every loan application will have to go through the Moneylender Credit Bureau (MLCB) where information such as your borrowing limit, unpaid loans, and repayment history with other licensed money lenders is stored.
Missed loan payments will be recorded in your credit history. If you have a long history of failing to repay your loan on time or still have outstanding debt, the money lender may reject your loan application.
Legal action may be brought against you
If you fail to repay your loan, your licensed money lender is legally entitled to take legal action against you. This can range from letters of demand from a lawyer to a lawsuit suing you for the outstanding debt.
You may lose your collateral
Certain loans such as home mortgages, car loans, and business loans require valuable assets to be pledged as collateral; these are known as secured loans.
If you're unable to pay moneylenders in Singapore for a loan that has been secured by collateral, you may lose the assets that have been pledged. This is because lenders have the legal right to seize a loan's collateral to recoup their losses.
What licensed moneylenders can't do
Would money lenders be able to harass you if you can't repay your loans?
Moneylenders are governed under the Moneylenders Act, which means there are certain regulations and laws they must abide by. Even if moneylenders hire debt collection agencies to collect the money owed to them, these agencies also have to comply with the regulations. If they fail to do so, the moneylender will have to bear any consequences of any illegal activity.
Here is a summarised breakdown of the code of conduct and good practices that moneylenders and debt collectors have to comply with.
They are prohibited from:
Inflicting injury
Intimidating, threatening, or harassing their borrowers and/or their family members
Stalking borrowers
Unlawful assembly
Damaging or vandalising personal property
If you experience such harassment, here are some steps you can take:
What licensed moneylenders can do
If you are unable to pay moneylenders in Singapore, they will usually attempt to collect the debt through these means:
Mail you a letter of demand
Visit your home (and as a last resort, your office) to deliver a letter of demand
Attempt to make contact with you over the phone and text messages at reasonable hours
Take legal action against you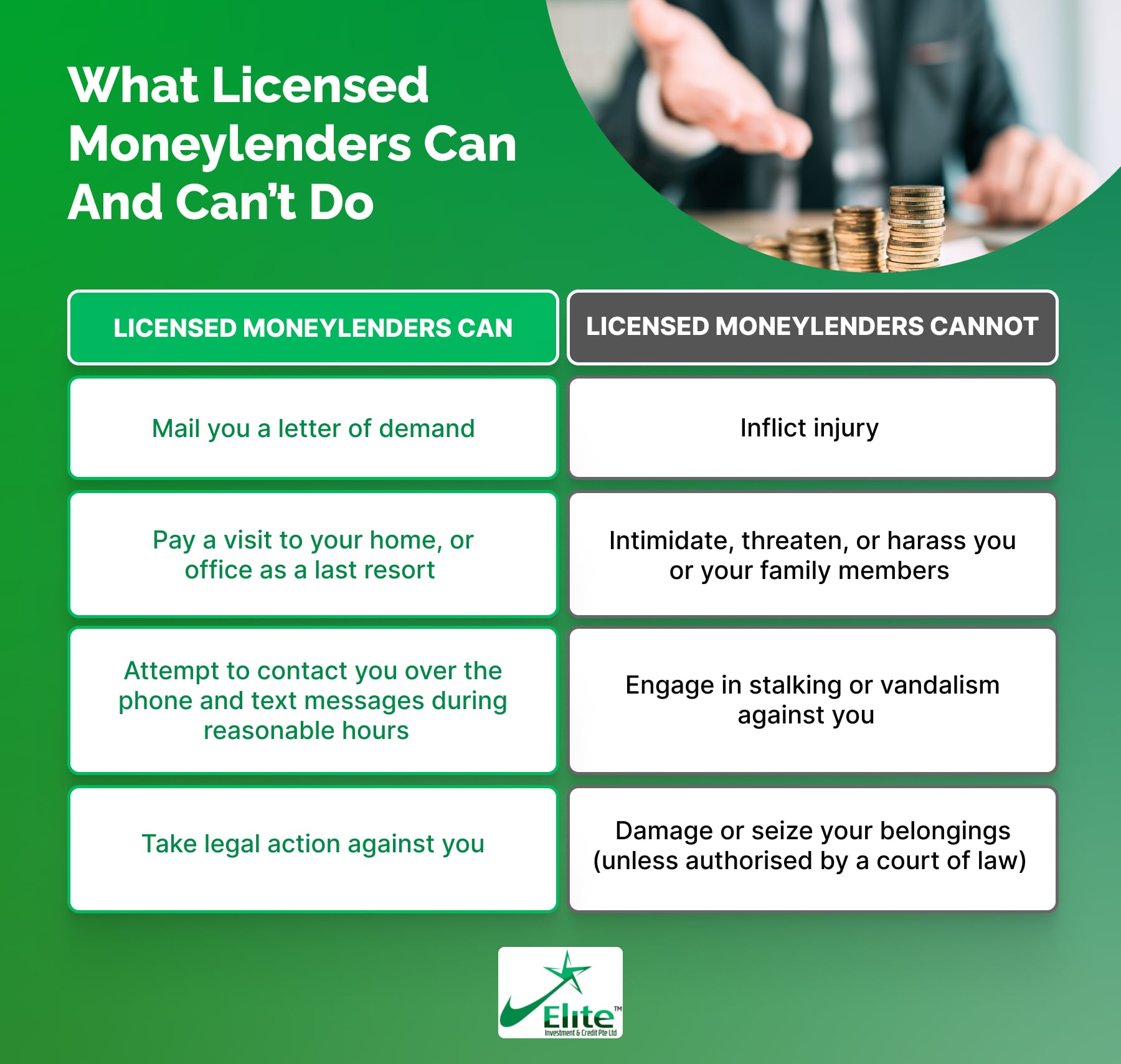 What should you do if you're unable to repay moneylenders in Singapore?
Renegotiate the repayment schedule
If you find yourself unable to meet your loan repayments, you should contact your moneylender to work out some options.
Request to renegotiate the repayment schedule – extending it will lower your monthly repayment amounts, making it easier for you to meet your debt obligations.
However, this will also mean that you will be in debt for a longer duration, which could affect your other financial plans. The total amount of interest you have to pay will also increase.
Notwithstanding the above, it is preferable to work with your lender to repay your loan, instead of shirking your financial obligation, which can lead to sterner actions.
Do not borrow to repay your loans
You may be tempted to take out another loan from another licensed moneylender to repay your current loan.
However, this will not resolve the situation – you're just prolonging being in debt, and will end up paying more interest in total, as mentioned above.
Go for debt counselling
Debt counselling is a social service that helps those in debt come to terms with their situation and provides tools, resources, and support geared towards working a way out.
Borrowers who are unable to repay their loans may benefit by reaching out to the following organisations for debt counselling:
Name of organisation
Contact details
Adullam Life Counselling
Address: 151 Chin Swee Road #08-04 Manhattan House Singapore 169876

Tel no.: 9423 8832

E-mail: [email protected]

Association of Muslim Professionals (AMP)
Address: 1 Pasir Ris Drive 4 #05-11 Singapore 519457

Tel no.: 6416 3960

E-mail: [email protected]

Arise2Care Community Services
Address: No. 5 Harper Road #02-01A Singapore 369673

Tel no.: 6909 0628

Email: [email protected]

Blessed Grace Social Services
Address: 16 Arumugam Road, #04-02B Block D, LTC Building Singapore 409961

Tel no.: 8428 6377

Email: [email protected]

Credit Counselling Singapore (only for bank loans)
Address: 51 Cuppage Road, #07-06, Singapore 229469

Tel no: 6225 5227

Email: [email protected]

One Hope Centre
Address: 8 New Industrial Road #04-04B LHK 3 Building Singapore 536200

Tel no.: 6547 1011

Email: [email protected]

Silver Lining Community Services
Address: (East) 11 Playfair Road Singapore, (West) Jurong Spring CC, 8 Jurong West St 52 Singapore 649296

Tel no.: 6749 0400

E-mail: [email protected]
Source: Ministry of Law
File for bankruptcy
Individuals who are unable to repay loans totalling more than S$15,000 can file for bankruptcy. This will prevent moneylenders from beginning legal action against you, while also stopping interest charges from accumulating on your debt (this freezes your debt and stops it from getting bigger).
Depending on your circumstances, you may qualify for the Debt Repayment Scheme (DRS), in which an Official Assignee will be appointed by the High Court to take over the management of your debt obligations and facilitate a repayment plan between you and your creditors.
Do note that declaring bankruptcy comes with severe consequences and restrictions, such as not being able to leave Singapore. As such, this action should only be taken as a last resort.
Do your financial planning well before taking a loan
Before committing to a loan, it is important to understand the basics of budgeting your expenses so that you don't land yourself in debt and possibly bankruptcy.
At Elite Investment and Credit, we provide financial planning and budgeting advice when you apply for a loan with us, to help you stay on track with your finances. Reach out to us now to find out more.