While Singapore is a generally safe city and the crime rate is low, that doesn't mean you should let your guard down. Illegal money lending by loan sharks persists despite the introduction of the Moneylenders Act Singapore in 2008. To this day, Singapore loan shark harassment cases regularly make the news. Here's what you need to know to steer clear of loan shark harassment.
What are loan sharks?
Just like the predatory creatures they are named after, loan sharks are illegal moneylenders in Singapore that prey on the vulnerable.
They lure their victims with the promise of an easy loan and charge exorbitant interest and unreasonable charges on it.
When borrowers inevitably fail to pay up, loan sharks resort to harassment, intimidation, and violence against borrowers.
Often, these harassment activities are brought upon the borrower's place of residence, causing family members and neighbours to be dragged in as well.
Warning signs you are dealing with a loan shark
Illegal moneylenders should be avoided at all costs, lest you fall victim to loan shark harassment in Singapore.
Here are some warning signs of loan sharks to take note of. You can also read more about how to spot illegal money lenders.
Illegal and unsolicited advertisements
If you receive a loan offer via SMS, WhatsApp, email, flyers, and/or social media, chances are they are coming from illegal money lenders in Singapore.
Licensed moneylenders in Singapore are only allowed to advertise in business or consumer directories (in print or online media); on their websites; or display advertisements at their own offices.
Not registered with the Registry of Moneylenders
All moneylenders in Singapore have to have a proper licence to carry out business activities.
Licensed moneylenders are registered with the Registry of Moneylenders (ROM), which is the regulatory body overseeing the money lending sector in Singapore.
Loan sharks are unlicensed moneylenders, and thus, would not be found in the official list of legal moneylenders, marking them as unlawful parties you should stay away from.
Exceedingly high loan amounts
Loan sharks will offer large loans without question to leverage your need for money. They will do so without making any checks on your credit history or asking for proof of your employment status or salary slips.
Under the Moneylending Act of Singapore, licensed moneylenders are required to screen borrowers for eligibility before offering loans. Also, how much an individual can borrow is determined by income level, as follows:
| | |
| --- | --- |
| Annual income | Maximum loan amount |
| S$20,000 and above | 6x monthly income |
| Between S$10,000 and S$20,000 | S$3,000 |
| Less than S$10,000 | S$3,000 (Citizen or PR) or S$500 (Foreigner) |
Any lender that promises you an exceedingly high amount is highly likely to be engaged in fishy business.
Exorbitant interest rates
Licensed moneylenders are required to cap their interest charges and fees at limits specified by ROM.
Take note that the maximum interest allowed is 4% per month, and late fees should not exceed S$60 for each month the payment is late. Admin fees are also capped at 10% of the loan amount. The combined total of interest charges and fees cannot exceed 100% of the original loan amount. You can read about these limits in detail here.
Loan sharks, on the other hand, will not adhere to these interest rate caps, charging up to 20% per month in a 2017 case. They are also known to change the interest rate on a whim to inflate your loan to sky-high levels, and may charge admin or processing fees more than 10% using "express service" as an excuse.
Disburses funds remotely
An important step when taking a loan from a licensed moneylender is paying a visit to the lender's office to verify your documents and go over the loan in detail. This must be accomplished before the lender is allowed to release the funds to you.
On the other hand, loan sharks will offer to deposit the funds in your bank account remotely, under the guise of convenience. Do not be fooled; this is most likely because they do not want to maintain a registered business address that can tie them to their illegal activities.
Blank or missing loan contract
To protect both borrowers and lenders, licensed moneylenders are required to provide a Note of Contract that spells out critical information regarding the loan, such as:
Loan amount
Interest rate
Loan tenure and repayment schedule (weekly, fortnightly, or monthly)
Fees and charges
All other relevant terms and conditions
As you'd expect, loan sharks or unlicensed moneylenders will not provide a loan contract, or will only offer an incomplete one, containing vague terms, or even completely blank, which they will then fill in as they see fit.
Abusive, threatening, and violent behaviour
Loan sharks can and will start acting aggressively and abusively toward you once they have you in their grasp. They will harass you and threaten violence against you and your family to get you to continue to pay them more and more money.
Licensed moneylenders are held to professional standards of behaviour, and will not resort to abuse, threats, or harassment. They will also be willing to renegotiate your loan if you're facing difficulty in repaying your debt.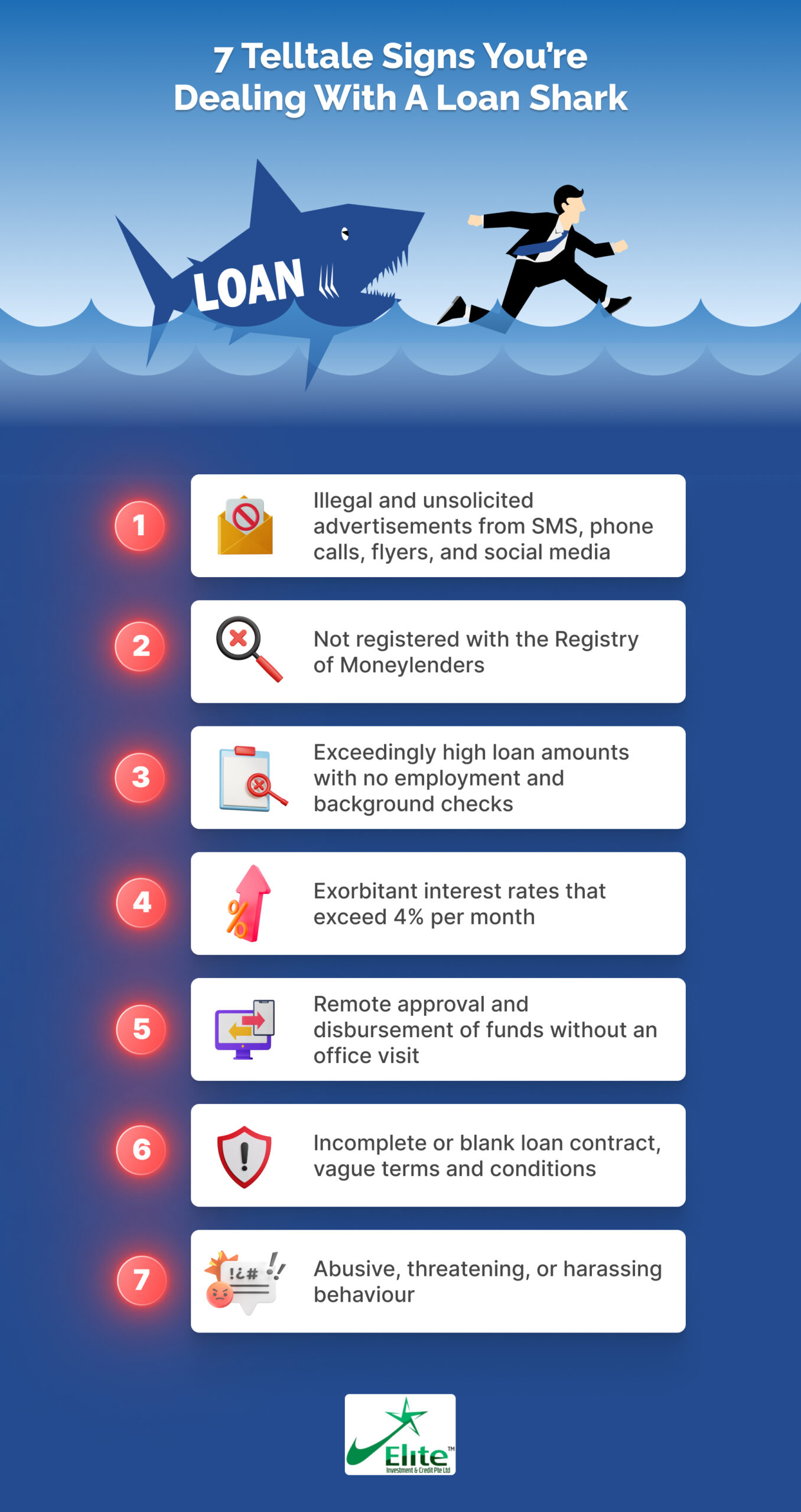 What to do if you're facing loan shark harassment in Singapore
If you or someone you know is facing harassment or unsavoury antics from loan sharks, follow these tips.
Make a police report
The first thing you should do is to make a police report to seek protection and assistance.
You can call 999 or dial the X-Ah Long hotline at 1800 924 5664 to report loan shark harassment in Singapore, or if you suspect anyone is involved in such activities.
Stop making payments and cut all contact
You should also immediately cease paying any more money to the illegal money lender, whether you have paid up your loan or not.
This is because unlicensed money lenders and loan sharks are not authorised to conduct moneylending activities, and hence, have no legal right to collect on any debt you owe.
You should also cut off all contact with a loan shark and ignore their phone calls, text messages, or other attempts to contact you.
Make it a point to ignore all unsolicited contact and marketing messages from moneylenders. You can make a complaint to ROM at 1800 2255 529 if you encounter any such communication.
Make an application under the Protection from Harassment Act
If the identity of the loan shark is known to you, you can also apply for a Protection Order under the Protection from Harassment Act (POHA), which criminalises stalking and harassing behaviour.
Furthermore, POHA also gives victims the option to sue their harasser for compensation.
However, this is easier said than done. Loan sharks are well aware of their illegal status, and will be careful not to divulge their identity.
Conclusion: Be vigilant against loan sharks
Under the Moneylending Act Singapore, loan sharks who are first-time offenders will be sentenced to imprisonment not exceeding 4 years, and a fine between S$30,000 and S$300,000. They can also receive caning of up to 6 strokes.
Those are heavy penalties, but Singapore loan shark harassment continues to happen. They have even started using new tactics, such as bombarding victims with food deliveries to their homes and stalking them on social media.
Hence, it is important to stay vigilant when searching for a loan. Ignore unsolicited messages, do not fall for easy loans with no qualifying criteria, and promptly report any illegal moneylenders you come across.
Elite Investment & Credit is a fully licensed moneylender committed to professional and friendly service to all borrowers. Talk to us today about our low-interest and flexible loans.