While banks claim to offer "instant loan approvals", this often requires having an existing bank account or credit card. Non-customers will have to wait for their loans to be approved before they can receive their funds, which could take a few working days. For those with an urgent need for cash, a better option would be a 1-hour loan approval service.
Is there really a 1-hour loan approval service in Singapore?
Yes, there is, and you can find one quite readily too. Many, if not all, licensed moneylenders in Singapore can approve your loan in an hour or less.
Most licensed moneylenders offer 1-hour loan approvals through a simple process. All you have to do is to apply for your loan online, acknowledge the loan offer, and then pay a visit to the moneylender's office to verify your identity and sign the loan contract. Afterwards, your funds will be disbursed to you.
You may be wondering how licensed moneylenders can approve your loan so quickly. Well, this is largely because of three reasons.
Firstly, compared to banks, licensed moneylenders have fewer layers of approval, which means your application can be processed much faster.
Secondly, licensed moneylenders also have less stringent eligibility requirements. Instead of checking your credit history, moneylenders are willing to approve your loan as long as you have steady employment and the ability to repay.
In contrast, bank loan applicants with a less-than-perfect credit history are likely to be subjected to further risk checks, lengthening the application process.
Thirdly, the adoption of digital tools has enabled moneylenders to be more efficient and quicker in processing your loan application. For instance, by using software such as the ML Loan System, moneylenders can quickly and accurately assess a borrower's applicable loan limits. Additionally, incorporating MyInfo login facilitates speedy, accurate, and secure personal data verification, instead of manual entry which may be prone to errors.
Banks, too, offer a high degree of digital integration. However, as mentioned in the opening of the article, you'll need an existing bank or credit card account to enjoy instant disbursement of funds. Otherwise, you'll have to apply for the relevant banking facilities before you can receive your funds, which potentially means a longer wait.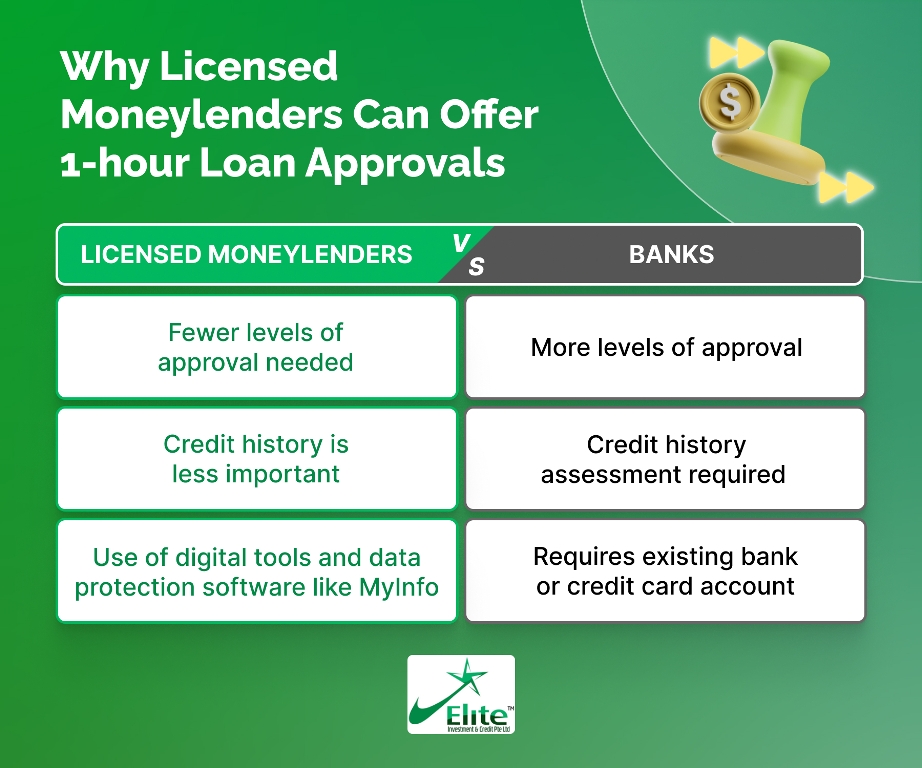 1-hour loan approval – our simple four-step process
1. Apply for your loan online
You'll need to include the following information:
Your personal details (name, email address, and contact number)
How much do you wish to borrow
Your monthly gross salary or income
The purpose of your loan
Alternatively, you may also log in using MyInfo to automatically submit your details. Note that other relevant details such as registered address may also need to be submitted.
2. Receive a loan offer
Upon receiving your application, the loan officer will verify your eligibility for the loan. If eligible, your loan will be approved, and they will contact you with a loan offer. In the vast majority of cases, a loan offer will be provided in 1-hour or less.
The actual terms of your loan will depend on factors such as your income level and whether you have any outstanding loans. This is following the prevailing moneylender rules and regulations set by the Ministry of Law.
You should consider carefully whether the offered loan suits you before proceeding with your application.
3. Pay a visit to the moneylenders' premises
If you've decided to accept the offer, the last step is to visit the moneylenders' premises. The loan officer will go through the terms of the loan with you and help you complete the loan application.
You will be able to verify important terms such as the interest rate, loan tenure, and loan quantum, as well as applicable fees and charges. You should also take the opportunity to clarify any doubts or questions you have about your loan.
Once all is in order, you will be asked to sign the loan contract, and a copy will be given to you. It is crucial to keep your loan contract safe in case any disputes should arise in the future.
4. Collect your funds
After signing the loan contract, your loan will be disbursed to you on the spot. You can choose to have the funds transferred to your bank account or collect the amount in cash.
And that is how you can get a loan in as little as one hour.
Conclusion: 1-hour loan approval in Singapore
Using a 1-hour loan approval service in Singapore can make a pressing financial situation less stressful and more manageable.
While it may be tempting to accept the first offer that you get, it is nevertheless important to borrow only from a registered moneylender and avoid shady lenders looking to prey on your urgency.
At Elite Investment & Credit, we offer loan approvals in 1-hour or less for borrowers with urgent financial needs. Sign up on our website to receive a personalised loan offer now.